maria
Country: uk
Joined: Apr 17, 2017
Profile Views: 868
Interests: Fun, Food and Friends are best
Login Status: Offline!
| | |
| --- | --- |
| maria's Photo Galleries | |
maria has listed 1 product
Login to send a Private Message to maria.
Login to comment on maria's bubble.
Posted by EricBBigham 2018-09-30 20:40:40:
Nice Work Maria
CHICKEN TVS NEW YORK 100X70 CM, ORIGINAL PAINTING £750

0 0
Reply by GhostRider 2018-10-05 11:59:21:
Very nice
0 0
Posted by Maria 2018-09-30 20:27:44: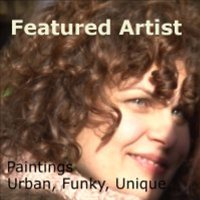 CARTOON VIBRANT LONDON
Click the Image to Buy This Painting
Size:80 x 80 x 2.5 cm
A super cool London cityscape, vibrant and colourful...
It is an acrylic drawing on canvas with a touch of fluorescent colours. I absolutely love this piece!
It's full of details and messages for you to discover and it will change with a different light shining on it..
Every time you will look at it you'll notice something different..
0 0